Do you live near a small municipal, large commercial or international airport, or even a military air base? Would you know how to respond, what to do, what tactics to employ? Did you know that aircraft are most susceptible to crashing upon take off and landing, ascent and descent? This gives you about a 20 to 30 minute drive time, time frame from the airport. Do you live within that time frame?
Following are some tactics to employ and pointers. I am no ARFF(Airport Rescue Firefighting) expert or ARFF instructor, but I am an ARFF certified firefighter. And I encourage anyone with ARFF experience to contribute to this thread. As well as those with none, ask questions, I'll answer them to the best of my ability, if I can.
You can usually expect one of two things when responding to the report of an aircraft down. One, the aircraft simply made a hard landing and the fuselage is intact, resulting in anything from slight injury to crew and passengers, most being walking wounded, to severe trauma and/or death. Or, two, the aircraft has crashed and you will encounter complete, total and utter carnage, with the probability of survival being minimal. In this case, you will most likely find body parts instead of whole people. Be prepared to see the worst. CISD will need to be employed.
Examples of a hard landing: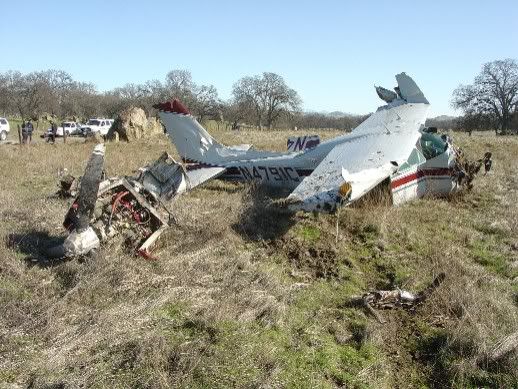 Examples of a crash:
Do not
move any pieces of the aircraft unless you absolutely have to, to necessitate a rescue. It needs to be treated as you would a crime scene.
If you encounter an aircraft down with the fuselage intact, with fire involvement, time is of the essence. Burn-through time on aluminum fuselages is usually less than 1(
ONE
) minute. Make sure you wear your SCBA! Many aircraft today are made with composite materials, as well as aluminum. Composite materials are a known cancer causing agent. Aircraft fires will involve large Class B fires. Class B foam or AFFF will be required. Set up apparatus and attack the fire at a 45º angle from the fuselage, on both sides of the aircraft. A rescue path needs to be cut,
and maintained at all times
, toward the fuselage with handlines, using the roll-on method to apply the foam.
Once you reach the fuselage you need to make entry. Remember, just like a vehicle crash or forcible entry into a structure, try before you pry. Most aircraft doors are clearly marked with easy instructions on how to open the door.
Employ ground ladders, place them directly at the door. Or if there are emergency escape doors over the wing place the ladder as close to the fuselage as possible with the top of the ladder over the wing as you would a structure, two or three rungs. A K-12 saw with a carbide tipped blade is best to use, warthog blades work well, too.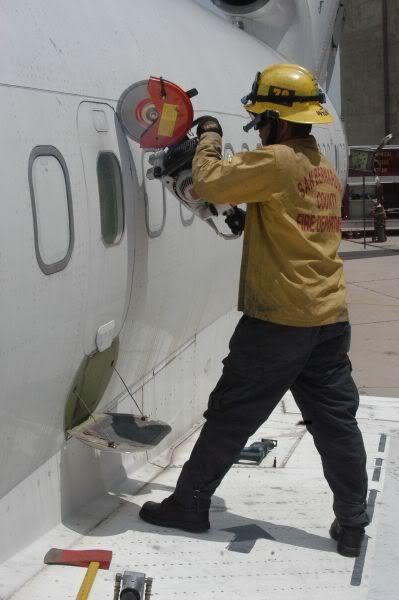 Employ a piercing nozzle if you have one, flood the fuselage passenger compartment, it will buy you time and hopefully keep those inside alive. Foam is not necessarily needed in this instance.
If you encounter an engine nacelle fire, flood the engine. Be very cautious and aware of jet engine intakes and prop aircraft propellers. Approach at a slight angle and keep your distance until the engine has shut down. If the pilot is unable to shut the engines down flooding the nacelle will do so.
If you encounter an aircraft crash where the fuselage is intact with no fire, but leaking fuel, apply and maintain a thick foam blanket, and take away all ignition sources.
Think big picture, don't hesitate to call for mutual aid and upgrade your alarm. If it's a large aircraft activate an MCI immediately. You will need lots of foam, and lots of manpower. As well as your regular mutual aid, airport and military ARFF units are more than willing to respond and help out. They have the apparatus specifically designed to deal with this type of emergency. Though the ARFF truck is much larger than our normal engines and ladders, they are small enough to drive and navigate city streets and country roads. And they're agile enough to go where our engines and ladders can't, into the wilderness.
Lastly, train with them. Most commercial airport and military airbase ARFF units are more than willing to offer classes and hands on training.