How Do I Set up a Blog and Why Would I Want To?
A blog is simply an online journal, diary or commentary. But unlike a regular diary you can add pictures, videos, widgets and other multimedia to your blog. You can talk about your latest call, post an opinion or commentary about a fire service issue, just about anything.
Just as you make regular entries to your journal, you also make regular entires to your blog. This could be as often as once a day or as infrequently as once a month (if you're like most people, you'll just make entries 'as and when' you feel like).
Why start a blog?
Use your blog to share your thoughts and tips with the world. Maybe you've decided to learn how to paint with oils in 30 days, and you want to journalize your experience for others to follow. Or perhaps...
You want to post a work in progress (WIP) adding pictures and notes at various stages for others to learn from.
Here's how you start a blog of your own:
STEP 1 - Go to your profile page (My Page) and click "My Blog".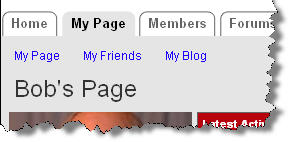 STEP 2 - Click "Add New Blog Post" in the top right hand corner.

STEP 3 - Give your blog entry a title and add some text. You can use the icons (seen in the screenshot below) to format your text, add pictures, add links and attach files to your blog entry.

STEP 4 - Choose when you want to publish your blog entry (either right away or at some future date) and set who can view your blog entry.
STEP 5 - If you now click on the "My Page" tab to get to your profile and then click "My Blog", you'll see the title your first blog entry! You can edit it at any time and to the right you'll see the "Monthly Archives" box - where all of your blog entries will be stored in date order!
---
How Do I Add Pictures to My Blog Entries?
When you are adding a new blog entry you'll see a series of icons just above the text entry box that look like this: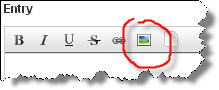 Click the picture icon (circled in red) and you can choose to either upload a picture from your PC or paste the URL of picture you've already uploaded. If you're not sure about pasting URL's see the question below "How do I let other members know about my blog and new blog entries?".
---
Can I Add Videos to My Blog Entries?
Absolutely and it's very easy! You can add a video from say YouTube or Meta Cafe (or any video sharing site for that matter)
Simply go to YouTube for example and find the video you want. To the right you'll see a box with some embed code in. Simply copy and paste this into your blog entry and presto... the video will appear!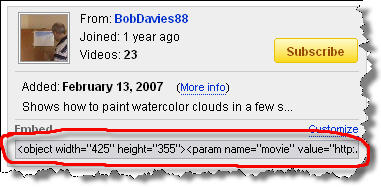 At YouTube (for example), highlight the code circled in red, copy it to your clipboard (press "Ctrl" and "C") and then paste it into your blog entry ("Ctrl" and "V"). Most video platforms such as Firefighter Nation's video and Google Video also include 'embed' code. Simply follow the same procedure.
---
How do I Let Other Members Know About My Blog and New Blog Entries?
Click the 'Share/Send to Friends' link at the bottom of your post, and use the tools there to automatically send a link to your blog to all of your friends, your e-mail address book, etc.
---
How do I Add Links to My Blog Entries?
When you are adding a new blog entry you'll see a series of icons just above the text entry box that look like this:

Click the link icon (circled in red) and a box will pop up asking you to enter the address (URL) of the page or site you want to link to.
The link code will now be added to your post and the mouse cursor will be flashing between the two arrows like this:

Just add some text between the arrows - whatever you want the link to say i.e. "Click here" or "Here's my blog entry". Whatever you type here will be the link text that appears underlined in blue.
Alternatively, you can highlight the text you want to link already in your post and then click the 'link' icon in the editor.