Executive Summary:
The LAFD (Los Angeles City Fire Department) recently dealt with one of the worst rail disasters in the history of California. To effectively deal with an incident of this magnitude, both the
ICS System
was employed as well as
START Triage and Tagging
.
This discussion reviews the basics of START Triage as well as the new Hazmat WMD Triage Tags. What is covered here is only the basics. What lessons have you learned to make a MCI event go more smoothly? Have you ever had to set up an air ops branch to handle medivac of critically injured patients? Do they use the same system in other parts of the world?
Are you prepared for this type of incident?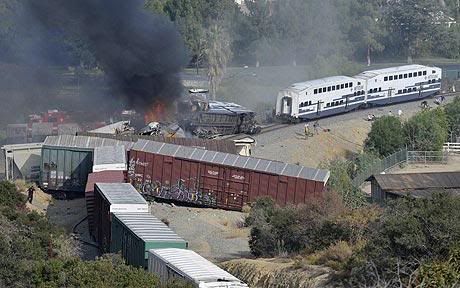 A freight train slammed headon into a metrolink commuter train filled with passengers.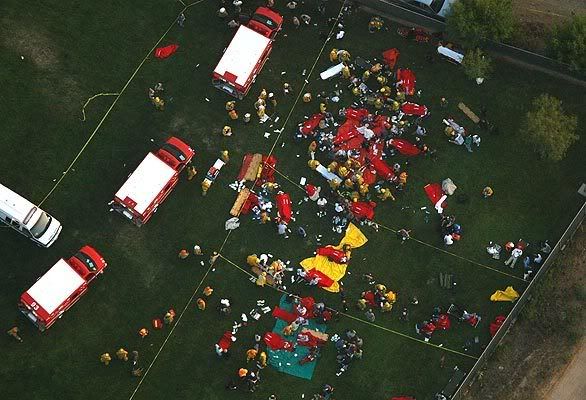 Triage has been set up, using multi-colored tarps to help organize and sort out the victims.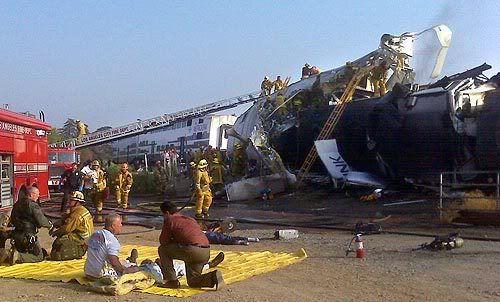 Immediate staging areas where victims were first removed to were established prior to the set up of the larger triage area.
START Triage:
Without wasting a lot of time explaining what triage is all about, one thing remains... You must have a thorough understanding of the START System for MCI Triage. For me, it's always been an easy thing to remember because we have a Fire Station No. 32. The pneumonic is 32 CAN DO which ties in the other half of the START pneumonics called RPM. You also need to have a good triage tag that is waterproof and has the needed information to document patient information.
Here's how they tie in together.
R
- Respiration
P
- Perfussion
M
- Motor Skills
This system ties in RPM with specific numbers to remember, which are the number 30 and the number 2.
Respirations:
If the respirations are
more than 30 times a minute
, you have a red tag priority patient.
Perfusion
If the capillary refill once you pinch the nailbed in the hand takes longer than 2 seconds to refill, then you have a good chance that the person is going into shock. This is a red tag priority patient.
Mental Status
If you ask the person to do something and they cannot respond appropriately, they may have a head injury and are considered a red tag priority patient.
Here's the algorhythm for START Triage: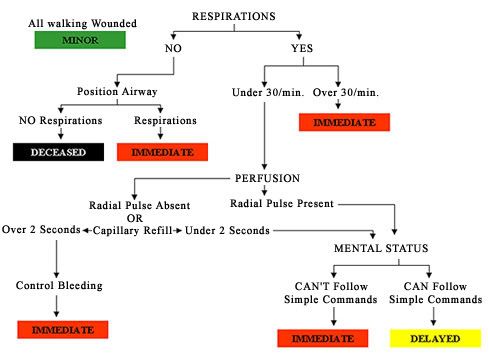 Triage Tags:
What makes this system work is the use of triage tags. The new tags contain many new features to address WMD events. Here's an example of the waterproof WMD Hazmat triage tags: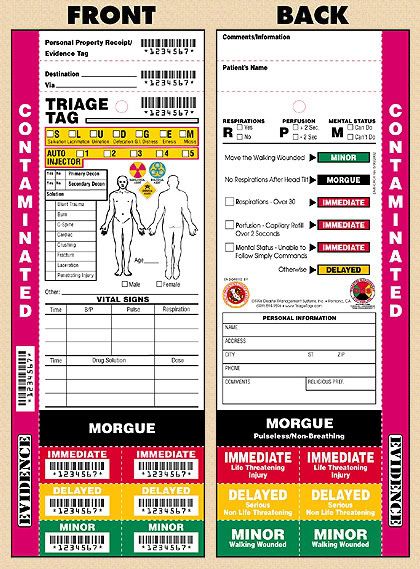 Key Point:
Make sure that if you are going to deal with a hazmat decon situation then the triage tags must be waterproof. We did a local drill years ago, nurses and paramedics spent a lot of time writing on the tags what they noted during patient assessment. The bad news was that the decon showers wiped out all the information on the paper tags... Lessons learned... sure glad it was a drill...