Stealing tactics and equipment used in shipboard firefighting, we can use the same eductor that is used to de-water shipboard firefighting water (prevents the boat from capsizing) to draft water out of a backyard swimming pool. I've done it and it works really well. Of course this eductor is considerably larger and heavier than the one shown in the video. But the output makes it a great tool to put in the box. All water tenders should have one of these.
Update:
Thank's to Engineco613, a prior discussion about a commercially available water eductor called the TurboDraft can be accessed by clicking
here
.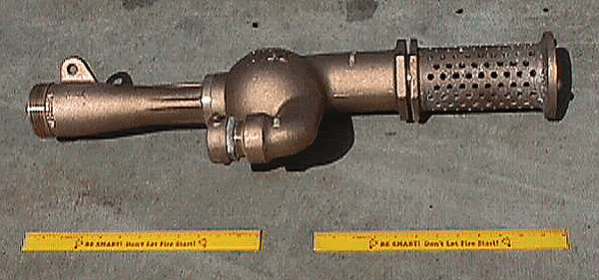 When you use the eductor to get water out of a swimming pool, you have to keep in mind that your are limited to about 200-feet maximum hose lay from the engine based on that being the standard lateral load that is used in the evolution.
Click this link to get a more descriptive step by step explanation of this new concept, (or at least I think it's new because I've never heard anyone else talk about it)...
Swimming Pools and Water Eductors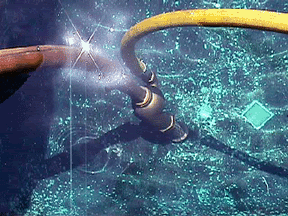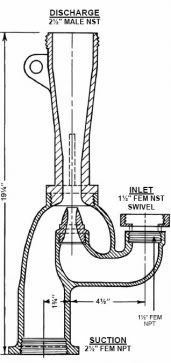 Manufacturer Suggested Uses – Fire Departments
1. Wild land Structure Protection

2. Drafting water from remote water supply

3. Dewatering basements, boats, tanks, etc.

4. Refilling Strike team
Manufacturer Suggested Uses – Marine Departments
1. Keeping bottoms dry during tank or 
hold washing operations.

2. Pumping water out of holds during 
firefighting operations.

3. Regular or emergency pumping of liquids or 
liquids with suspended particles from ballast, bilge, cargo spaces, pits, etc.
L.A. County Fire Department Model furnished with:
» Discharge Coupling as shown 2½" NST Male

» Inlet Coupling 1½" NST "F" swivel

» Non Return Flapper Type Check Valve

» Suction Strainer – Barrel type
S-Type Eductor Tip 000
About the 1 1/2-Inch (S-Type) Eductor
NSN 4320-00-217-0938
(Eductor, 1 1/2 In, 1 1/2 In Inlet X 2 1/2 In outlet)
Description
The 1 1/2-inch eductor is fabricated from a highly durable bronze metal and is made in the shape of an off-set half "U." It is designed with a 1 1/2-inch NPSH swivel water inlet, a 2 1/2-inch male NH water discharge connection with a foot valve, a 2 1/2-inch suction opening at the bottom and an attached strainer.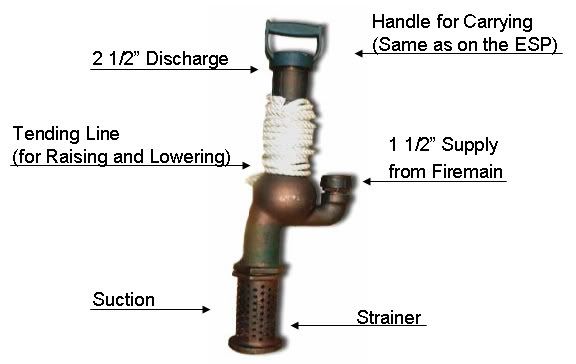 This eductor is used to pump out areas with small volumes of water. With a 100-psi, 125-gpm water supply, the eductor will pick up 100 gpm, for a net discharge of 225 gpm. It can be activated by water from the firemain, submersible pump or P-100 pump. If more than two 1 1/2-inch by 50-foot hoses are used on the actuation line, the eductor will be ineffective due to friction loss.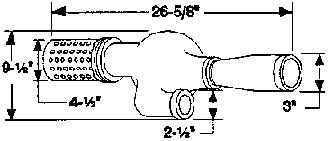 The eductor is shown with the nylon handling line. This line is used when lowering or lifting the eductor during dewatering operations. A 2 1/2-inch cap with a handle aids in carrying the eductor and protecting the male hose threads. The eductor is 26 5/8 inches long and weighs 20 pounds. It is contained in the dewatering equipment kit.
Note
:
The lighter and more efficient Derbyshire aluminum 1 1/2-inch eductor (NSN 9C 4320-01-110-0299) is being phased in to replace the heavier, less efficient bronze eductors.

"It's all about being able to go home in the morning..."
Mike Schlags, Fire Captain
Santa Barbara County Fire Department
mschlags@yahoo.com